Hi everyone, well I know I've been MIA. I had a hectic last week. My girls finished school yesterday and are out for the summer. Yippee! But I'm still 2 weeks behind in my lessons, sigh! I need to stop procrastinating and get my stuff done. My birthday was on the 21st and my 11th Anniversary was on the 19th. Yep! they're back to back. DH got my a network hard drive, 1TB, for my birthday/anniversary :o), just what I wanted. And to top it off he made me some Lemon cupcakes with Citrus Icing that are allowed on my diet. See below. Boy did I enjoy that cupcake alot.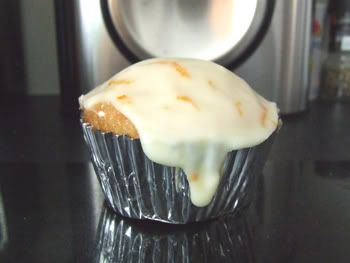 Anyway moving along.... on my birthday my DD came home early due to her asthma acting up. We picked her up then stopped by the store, guess what. This lady scraped our car. Funny thing is the lady's car was still parked next to ours. We didn't know at first it was her car that damaged our, but while in the process of calling the police, we noticed on her rear right bumper was paint transfer from our car. I guess she didn't know she did it. Anyway, police came , we started filling out a report, while we were doing that, the police went into the store to find the lady that owned the vehicle that damaged ours. Guess what happened next. I turn around and the lady is driving off in her car. The police had to chase her down by foot. Can you believe it. (password for today's freebie is 6638c9L5R2$V ) What made me so mad was she never apologized. And yet, my DH apologized for this whole mess taking too long (we filled out the report twice, they wanted more detail). I thought he lost his mind when he did that. See pic below. Its not a good one cause the sun was out. Its like 13" in length and 3.5" in height. I'm curious how much this will cost to be fixed...hhhmmm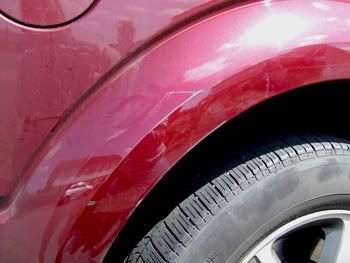 Oh, almost forgot,In celebration of my 35th Birthday and my 11th Anniversary, get 46% of everything. Visit me at Your Digital Designers or at Digitscrap Boutique No coupon required at these two stores, discount shown in the shopping cart. Or visit me at Digital Scrap Designs and use this coupon code:
ppcelebrate0708
to get an additional 16% off on top of the 30% off sale currently going on. This sale ends July 27, 2008! Happy Shopping! See ad below for more information:
Now for today's freebie. I hope you like it, its a PixieQuickie Page called "Me and You". Found some papers I made a couple of years ago, thought I'd put them to good use. This is for personal use only. See previews below: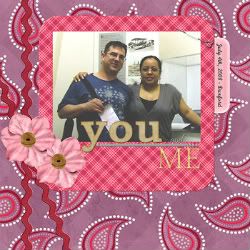 =Download Expired=
(password is required, you'll find it somewhere in this post, cut and paste will not work for some, so try to enter it manually, otherwise send me an email.)
Please don't pass this link or the zip file around, to do so would be an act of piracy. Instead please refer your friends and family here to download for themselves. Thank you!
...........................................................................................................