First I want to say "

Thank you very much!

" to everyone who has been taking the time to leave a comment when downloading. Since 4shared has changed to where you have to join or login to leave a comment, I really appreciate those of you taking the time to leave a comment. :o) Now for my portion of Winter Convoy: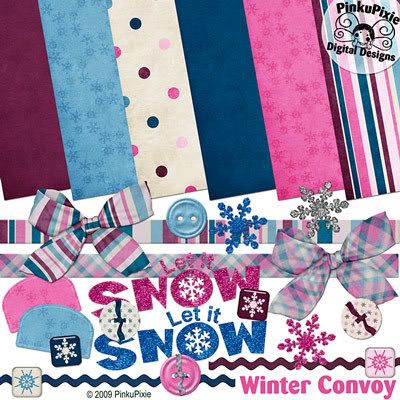 Everything is saved @ 300 dpi, papers are in .jpg format and everything else is in .png format. This mini kit contains 6 papers and 24 elements. There are no shadows, I only added them to the preview.
6 12x12 papers
2 bows
2 ribbons
2 tabs

3 snowflakes
2 "Let is Snow" wordart

4 buttons

3 button ties

4 epoxy squares

2 ric rac



=:=Download Expired=:=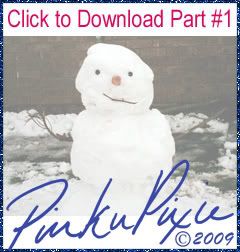 =:=Download Expired=:=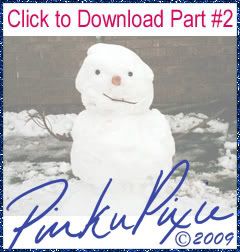 Please don't pass these links or the zip files around, to do so would be an act of piracy. Instead please refer your friends and family here to download for themselves. Thank you!
==========================================
Please remember that we are all in different parts of the world so if you visit a link and its not there go back later. Also things can happen beyond a designer's control so please be kind if you don't find something at a link. And remember places like 4shared get grumpy if we all download at once so if it doesn't seem to work try again later, all of our links will be up all month long. Please, Please Please leave us some love on our blogs. Thanks-a-bunch!
Visit the other Convoy Drivers to collect the rest of "Winter Convoy 2008":
01 -
SotoCreations
02 -
Curtisam Creations
03 -
MoveFearlessly Designs
04 -
Bits N Bobs
05 -
Damc
06 -
WillowRaven at Purple Dragonfly Creations
07 -
Desert Bloom Designs
08 -
Moonlight Scraps
09 -
CandysTreasures
10 -
JIC Creations
11 -
Melinda's designs
12 -
Carolyn at Digi Cyber Scraps
13 -
Kolor'Scapez
14 -
outbackdezigns
15 -
Digital Scrap Fun
16 -
EA-Gra-Fx by Endora Aphrattos
17 -
Elemental Pixie
18 -
Supersuzi
19 -
Vintage Paris Princess Designs
20 -
Willow Grace Designs
21 -
Twisted Angel
22 -
Foxylady Creations
23 -
TammyJo's Creations
24 -
Moo's Scraps
25 -
BlueVelvet DeZigns
26 -
Jen
27 -
Teri~
28 -
Blind Sight Designs
29 -
PinkuPixie Digital Designs
<== You Are Here==
30 -
Angel Flower
31 -
Angi's Place
32 -
Jess
BONUS -
Crystal's Creations
THE HUB
==========================================